a chat with delita martin
What Black woman printmaker have you gleaned inspiration and or wisdom from and how is that carried forward in your work?
dm: Elizabeth Catlett has definitely been the inspiration and motivation for me to achieve all that I manifest as a printmaker. Catlett used her art to advocate for social change in both the U.S. and Mexico for over 70 years with her expressed purpose to "present black people in their beauty and dignity for ourselves and others to understand and enjoy." She would blend figurative and abstract traditions with current social concerns and always maintained a deep belief in the democratic power of printed art to reach a large audience. She also created work that showed the multidimensional aspects of women as mothers, workers, and activists. Catlett explained to the artist and art historian Samella S. Lewis, "I have always wanted my art to service my people — to reflect us, to relate to us, to stimulate us, to make us aware of our potential."
My work deals with the reconstruction of the identity of black women by piecing together the signs, symbols and language used in everyday life from the times of slavery in America through today. My goal is to create a visual language to tell the story of women that have often been marginalized, offering a different perspective on the lives of black women which continues the work and legacy that Elizabeth Catlett started and pushed forward with throughout her life.
As a founding member of Black Women of Print, what legacy would you want the society to: expand on from the past, create in the present and leave for future generations?
dm: I would like the society to continue to expand the definition of what it means to be a black woman artist and printmaker. I also would like to see the group provide opportunities and safe spaces for black women to create art.
What does/can community look like in printmaking? What are the various ways that we, as printmakers, can collaborate?
dm: Printmaking, from its earliest expressions to the present day, has generally been characterized by the creative collaboration between various individuals such as designers, woodcutters, engravers, printers, and publishers. Each have all had their respective role on the prints they helped produce. Where the master printer has all the technical skills at the press and may be a specialist in a particular field such as lithography their own artistic abilities may be limited which is where an expert in design or drawing would step in. Bringing together two or more experts in their respective fields at the press to make something that is greater than the sum of the individual experts allows a full artistic expression with print. Collaboration allows the artist to focus on the image while the printer makes sure that it is technically possible.
+ delita martin is a master printmaker, who works in screenprinting, block printing, linocut, woodcut, intaligo, lithography and letterpress.
Acrylic, Relief printing, Lithography, Charcoal, Decorative papers, Hand‐stitching
54" x 74"
2017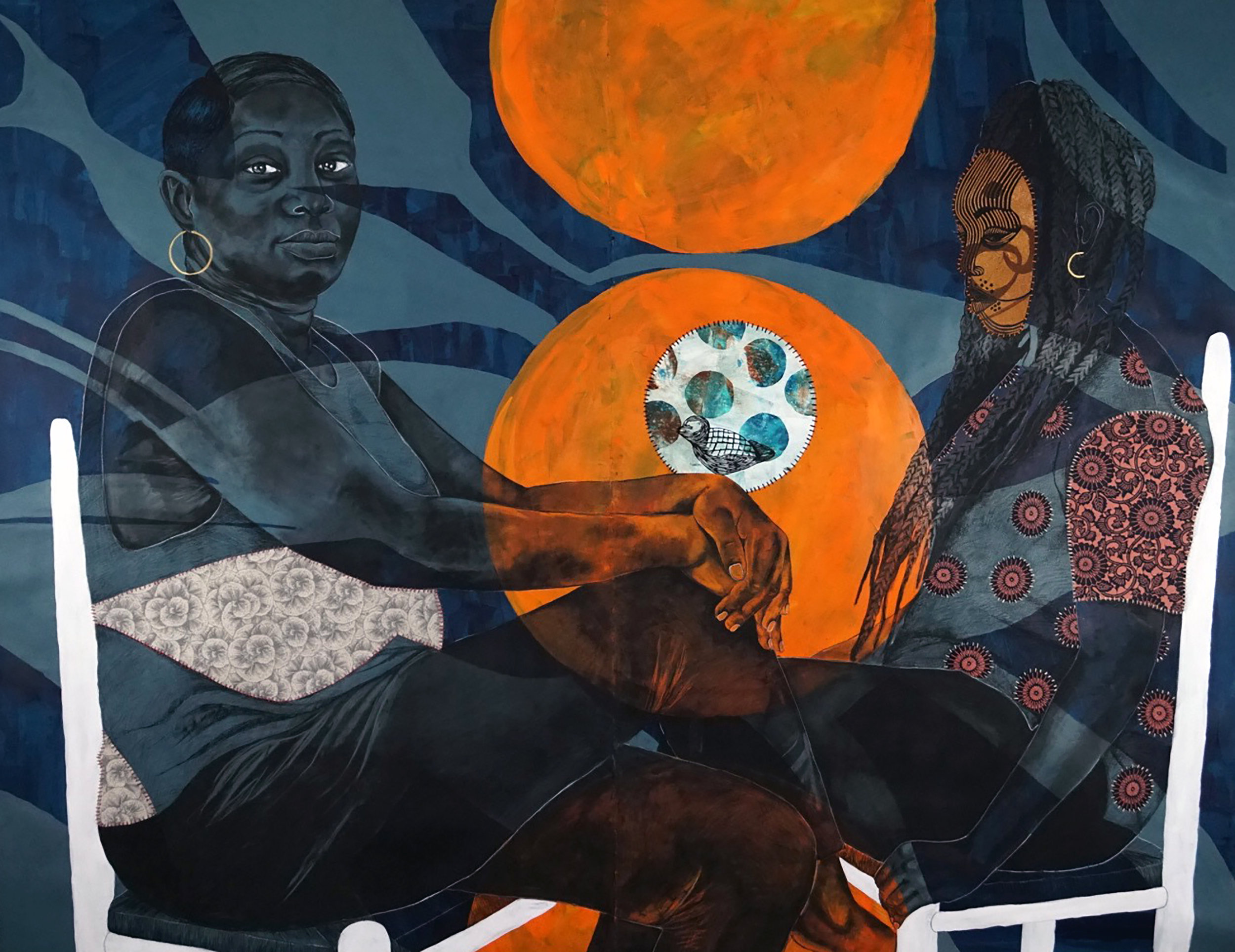 "The Moon and the Little Bird"
Acrylic, Charcoal, Gelatin printing, Relief printing, Collagraph printing, Decorative papers, Hand-stitching, Liquid gold leaf
102" x 79"
2018
"The Place that Binds Us"
Acrylic, Charcoal, Gelatin printing, Relief printing, Collagraph printing, Decorative papers, Hand-stitching
48"x 71 3/8"
2018